FEMALE POV
Keyholder Kink
Volume 1: Yours No More
(Contains male chastity, teasing, footjob, CBT, caning.)
He asked her to lock his manhood away, made himself hers to tease, punish and play with. The only problem is she doesn't know if she's strong enough to tame him.
Volume 2: His 'n' Hers
(Contains male and female chastity, prostate play, FF, lesbian, strapon, fem dom.)
Couple's therapy has never been so sexy. In a desperate attempt to achieve marital bliss this unhappy couple agree to both be locked into chastity until they can sort out their differences. But with her lover coming to visit what will she do in order to get her dominatrix to 'bend' the agreement?
Volume 3: Old New Borrowed & Blue
(male chastity, oral sex, blowjob, cuckolding, orgasm denial.)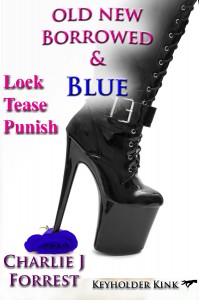 Dominatrixes don't get invited to many weddings. Unless of course the groom is in a cock cage and is due to be released on the wedding night. Meanwhile the bride is cuckolding him with the best man.
Mistress Juliet is one her way to an old friend's wedding as part of keyholder duty. Of course if she can take the opportunity to talk another man into locking himself up and giving her the key then that'll just double the fun.